Alanya, a beautiful coastal city on the Mediterranean coast of Turkey, offers a thriving real estate market with a wide range of property options. Whether you are looking for a holiday home, a retirement retreat, or an investment opportunity, Alanya provides a wealth of choices. In this comprehensive guide, we will explore the process of buying property in Alanya, along with key factors to consider and popular areas to explore.
Table of Contents
Introduction
Why Buy Property in Alanya?
Types of Property in Alanya
How to Buy Property in Alanya
Research and Budgeting
Engaging Local Experts
Property Viewing and Evaluation
Legal Considerations
Financing Options
Closing the Deal
Popular Areas for Property in Alanya
Alanya City Center
Mahmutlar
Oba
Kestel
Avsallar
Best Property in Antalya
Conclusion
Introduction
Alanya is renowned for its stunning coastline, rich history, and vibrant atmosphere, making it an appealing destination for property buyers. With a wide range of property options and a favorable investment climate, Alanya offers numerous opportunities for those looking to buy property in this captivating city. This guide aims to provide a comprehensive overview of the property market in Alanya, offering guidance on how and where to buy property.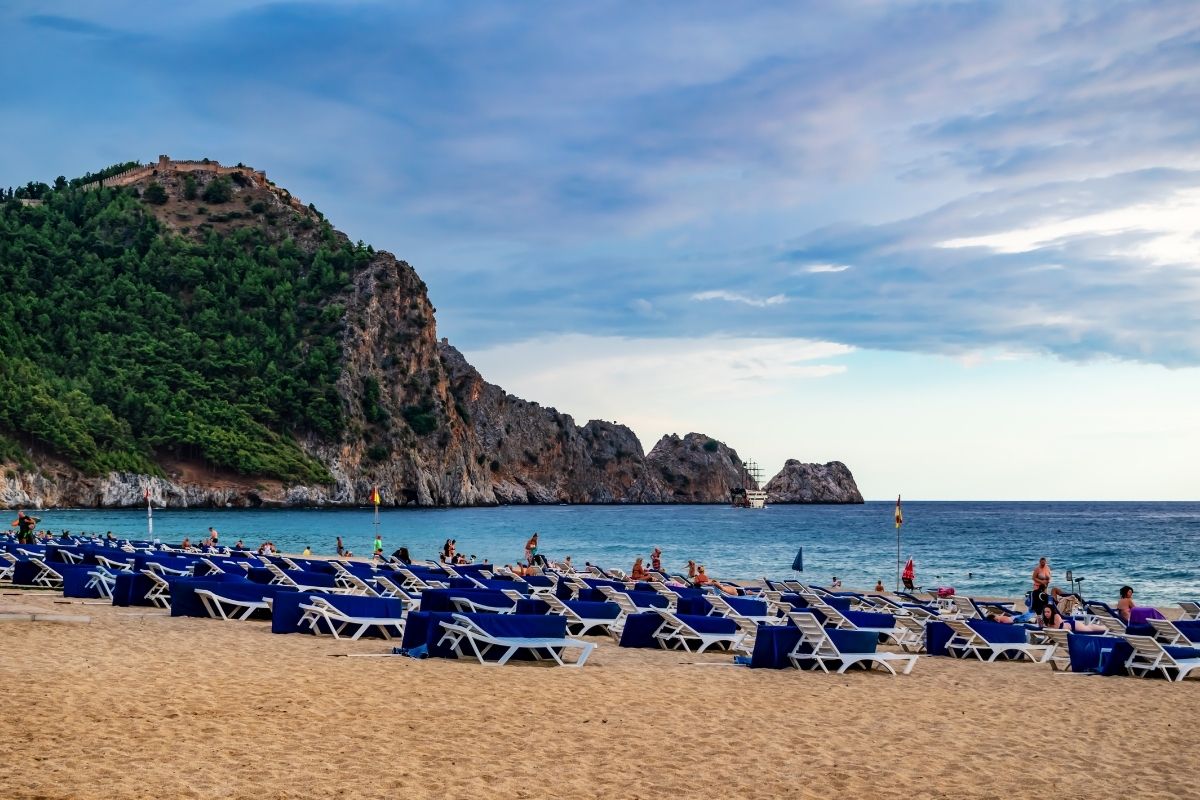 Why Buy Property in Alanya?
There are several compelling reasons to consider buying property in Alanya:
Natural Beauty and Coastal Lifestyle: Alanya boasts breathtaking natural beauty, with its sandy beaches, crystal-clear turquoise waters, and scenic landscapes. Owning property in Alanya allows you to embrace a coastal lifestyle and enjoy a relaxing atmosphere.
Investment Potential: Alanya's real estate market has experienced steady growth, making it an attractive investment opportunity. The city's popularity as a tourist destination ensures a high demand for rental properties, providing potential rental income for property owners.
Affordability: Compared to other Mediterranean destinations, property prices in Alanya are relatively affordable. The city offers a range of property types and price points, catering to different budgets and preferences.
Infrastructure and Amenities: Alanya offers a well-developed infrastructure, including modern transportation networks, healthcare facilities, educational institutions, shopping centers, and a wide range of entertainment and recreational options.
Types of Property in Alanya
Alanya offers a diverse range of property types to suit different needs:
Apartments: Apartments are a popular choice, ranging from compact studios to spacious penthouses. They are available in various locations, including beachfront complexes, residential neighborhoods, and city center developments.
Villas: Villas offer more space and privacy, typically with private gardens and swimming pools. They come in various sizes and architectural styles, catering to different preferences.
Townhouses: Townhouses provide a balance between apartments and villas. They offer a blend of privacy and shared amenities within a complex setting.
Land: Buying land in Alanya provides an opportunity to build a customized property according to your preferences. It is important to familiarize yourself with the regulations and permits required for land development.
How to Buy Property in Alanya
Here is a step-by-step guide on buying property in Alanya:
Research and Budgeting
Define your goals and requirements for the property, such as location, property type, size, and budget.
Conduct thorough research on the Alanya real estate market, property prices, and trends.
Set a realistic budget, considering not only the purchase price but also additional costs such as taxes, fees, and maintenance expenses.
Engaging Local Experts
Seek assistance from local real estate agents or property consultants who have in-depth knowledge of the Alanya market.
Local experts can provide guidance, offer property options that match your criteria, and assist with legal processes and negotiations.
Property Viewing and Evaluation
Visit Alanya to view properties of interest. Arrange property viewings and evaluate each property carefully.
Consider factors such as location, accessibility, proximity to amenities, condition of the property, and potential for rental income if applicable.
Legal Considerations
Hire a reputable lawyer who specializes in Turkish real estate law. They will ensure that all legal aspects are taken care of, including title deed verification and contract review.
Ensure that the property has a clear title and is free from any encumbrances or legal issues.
Financing Options
If financing is required, explore mortgage options from Turkish banks. Consult with banks to understand the eligibility criteria, interest rates, and repayment terms.
Prepare the necessary documents and fulfill the requirements to apply for a mortgage if applicable.
Closing the Deal
Once all legal and financial matters are in order, proceed with the purchase. Sign the purchase contract and make the necessary payments as per the agreed terms.
Engage a certified translator if needed to ensure a clear understanding of all contract terms.
Popular Areas for Property in Alanya
Alanya offers several popular areas for property investment. Here are some of the most sought-after neighborhoods:
Alanya City Center
The city center of Alanya offers a vibrant atmosphere with a mix of historical charm and modern amenities. It is a sought-after location for those who enjoy being in the heart of the action, with easy access to shops, restaurants, and entertainment venues.
Mahmutlar
Mahmutlar, located west of the city center, has experienced significant growth and offers a range of affordable properties. The area is well-connected, with a variety of shops, restaurants, and leisure facilities.
Oba
Oba is another desirable areain Alanya, situated east of the city center. It offers a peaceful and family-friendly environment, with beautiful parks, schools, and shopping centers. Oba is known for its low-rise residential complexes and proximity to the beach.
Kestel
Kestel, a tranquil neighborhood located east of Oba, offers a relaxed and natural setting. It is surrounded by picturesque landscapes and offers a range of residential options, including apartments and villas. Kestel is popular among those seeking a quieter lifestyle close to nature.
Avsallar
Avsallar, located west of Alanya, is known for its beautiful sandy beaches and peaceful ambiance. It is a popular area for both holiday homes and permanent residences. Avsallar offers a range of amenities, including supermarkets, restaurants, and water parks.
Best Property in Antalya
Basic Apartment has earned the trust of its customers through several factors:
They handle real estate transactions of any complexity using advanced legal technologies.
They oversee the entire transaction process, from contract signing to the legal and physical transfer of property ownership.
They have an impeccable reputation, with no transaction ever going to court throughout the history of their agency.
They conduct thorough legal checks on all documents.
They only finalize settlements with the buyer after the signing of property ownership.
Overall, Basic Apartment is a trusted and reliable real estate company in Alanya, Turkey, offering exceptional services and ensuring smooth and secure transactions for their clients
Conclusion
Buying property in Alanya presents a unique opportunity to own a piece of this stunning coastal city. By understanding the buying process, engaging local experts, and conducting thorough research, you can navigate the Alanya property market with confidence. With its diverse property types, affordability, and investment potential, Alanya offers a range of options to suit different preferences and budgets.
Basic Apartment is an authorized real estate company in Alanya, Turkey, with a 17-year track record of excellence. They specialize in buying and selling properties, offering their clients the best marketing strategies, professional advice, and honest options for successful transactions. With their extensive market knowledge, Basic Apartment ensures that their clients make wise purchases. They provide comprehensive customer service, assisting clients in finding their dream homes and obtaining title deeds.
For those looking to sell their property, Basic Apartment is the go-to address, thanks to their wide network of clients from different countries. Leveraging their 17 years of experience, they can easily facilitate quick property sales. The team at Basic Apartment is dedicated to assisting clients in every aspect and believes that building strong relationships and trust are the keys to their success. They prioritize understanding the preferences and desires of buyers even before searching for suitable apartments. Prospective clients are encouraged to reach out with any questions they may have.
FAQs
Can foreigners buy property in Alanya?
Yes, foreigners are allowed to buy property in Alanya and throughout Turkey. However, there may be certain restrictions on buying property in specific areas, such as military zones. It is advisable to consult with local experts and legal professionals to understand the regulations and requirements specific to your situation.
What are the additional costs associated with buying property in Alanya?
In addition to the property price, there are additional costs associated with buying property in Alanya. These may include property transfer tax, title deed fees, notary fees, legal fees, and potentially real estate agent commissions. It is important to factor in these costs when budgeting for your property purchase.
Can I obtain a mortgage to finance my property purchase in Alanya?
Yes, it is possible to obtain a mortgage from Turkish banks to finance your property purchase in Alanya. The availability of mortgages, terms, and eligibility criteria may vary among different banks. It is advisable to consult with banks and mortgage brokers to explore your options and understand the requirements.
Are there any residency requirements for property owners in Alanya?
Owning property in Alanya does not automatically grant residency rights. However, property ownership may provide certain advantages when applying for a residency permit in Turkey. It is recommended to consult with the relevant authorities or seek legal advice to understand the residency requirements and procedures.
Can I rent out my property in Alanya?
Yes, it is common for property owners in Alanya to rent out their properties, especially in popular tourist areas. Renting out your property can generate income, particularly during the peak tourist season. It is important to comply with the local regulations and taxation requirements for rental properties.
Please note that while this guide provides a general overview, it is essential to seek professional advice, conduct thorough research, and adhere to the current regulations and laws specific to your circumstances and the real estate market conditions in Alanya.
Get a Free Consultation
Planning a memorable holiday can be an exciting yet overwhelming experience. From choosing the perfect destination to arranging accommodations, flights, and activities, there's a lot to consider. But what if there was a way to simplify the process and get expert guidance tailored to your preferences? That's where a free consultation for a holiday quote comes into play. We'll explain how you can access this valuable service and make your dream vacation a reality.